I've never taken part in Peas and Crayon's What I Ate Wednesday, but all the cool bloggers are doing it.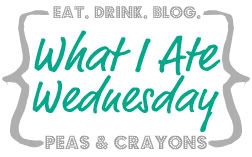 Therefore, I thought I'd join in this week. Jenn, thanks for hosting. My breakfast this morning…
Hershey's unsweetened baking chocolate and coffee in a recycled gas station cup. Classy.
The Fife Lake grocery store was sold out of Baker's chocolate, but the Hershey's bar was pretty tasty. Plus, I ate it with this as my backdrop…
I'll take it.
Anyway, since my Michigan eats are kind of boring (think canned tuna and lots of peanut butter), I'll show you what I wish I could have made for breakfast. Remember Waffle Wednesdays? In honor of Susan, my waffle muse…
Savory Waffles made with chicken sausage + goat cheese, served with a side of salsa.
The Elvis: Peanut butter waffle topped with banana and bacon. Um, yeah, it's as delicious as it sounds.
Mmm, waffles. I'm having a blast here in Michigan, but now I'm really missing my waffle iron!
Don't forget, The Great Fundraising Act will take place on Monday, July 25th. Susan, we're going to help you beat this!